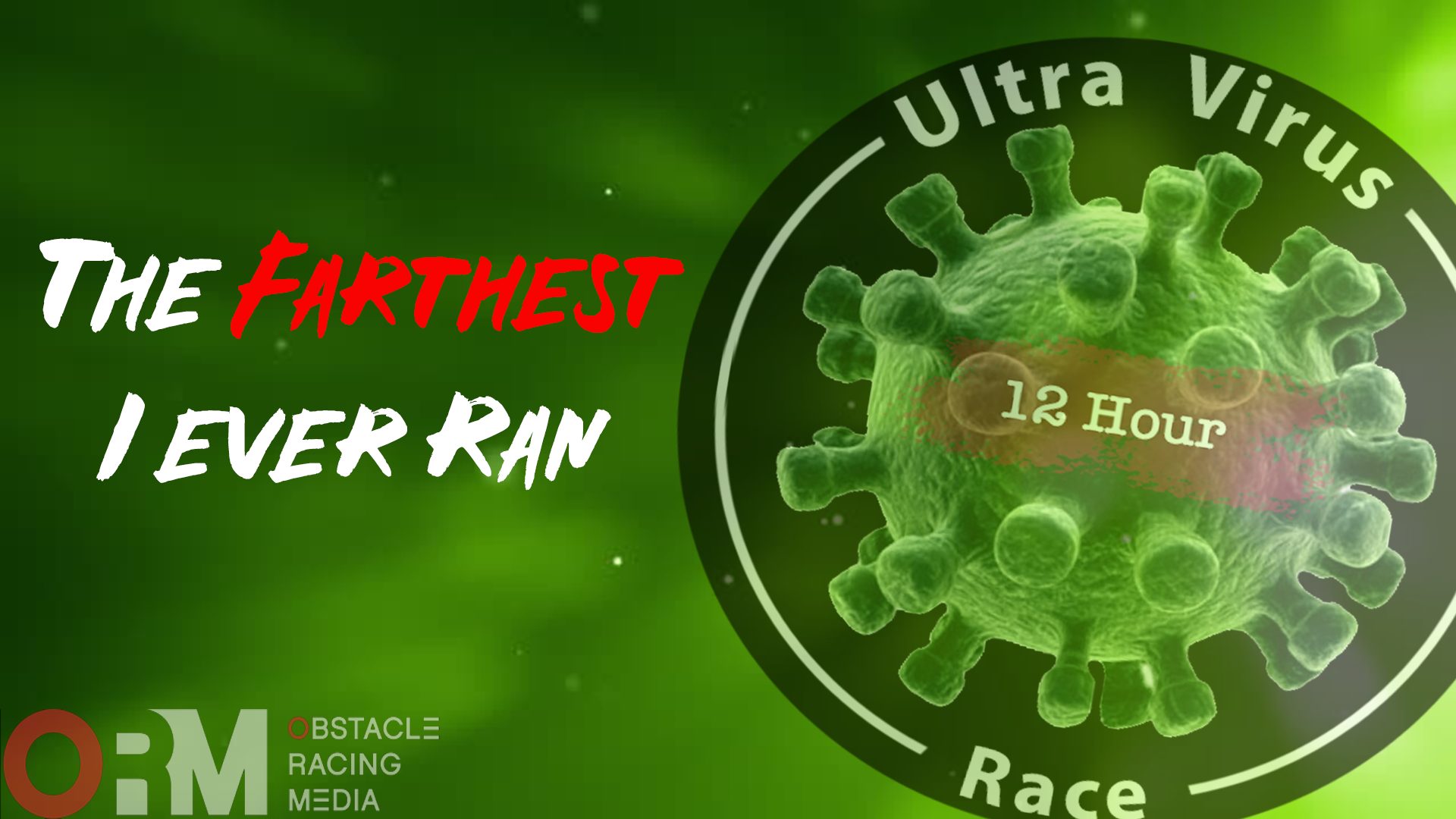 Races across the globe have been canceled or postponed, so I was surprised when I saw a registration page for a 12 hour race pop up on my radar. That surprise quickly morphed into intrigue, and I knew I had to partake in the shenanigans.
It was called the Ultra Virus, and it was put on by Obstacle Racing Media. Right away, it enabled all those ultra runners (many of them doing so for the first time ever) to scratch that itch and compete with fellow athletes and friends from across the globe.
The concept was simple: pick a 5-mile loop anywhere you want, and run it as many times as possible in 12 hours. You did have to check in on Zoom every lap and then upload your segment online, so a pit of sorts was necessary. But it was a cool concept and it enabled people to take very different approaches.
Some decided on a local loop around their neighborhood; some ventured to acquire as much vertical gain as possible, not caring for total distance; and others found trails close by that the could spend the day in.
Myself and my friend Dennis chose the latter, and the route we went with wasn't the most runnable 5-mile loop out there, but it wasn't too intense, either: it totaled 700 feet of climbing over the 5 miles, and had a good mix of soft trail, rocky powerlines, steep inclines, and fast downhills. Going in we thought we were both capable of 50 miles in 12 hours.
The prep was done in large part due to my beautiful fiance, Elise, so that come Saturday, April 18, we could wake up and go run in the woods for half of the day like baboons.
Saturday morning arrived, and although it hadn't snowed in Massachusetts in quite a long time (two, three months, probably?) we opened our door to see a few inches of slushy, nasty stuff on the ground.
This wasn't the worst thing, as the temperatures were still in our favor, and the rain itself didn't look too intense. Not ideal conditions, but we didn't sign up to do this to make it as easy as possible. We were excited for the challenge.
We got to the trail with about 45 minutes to spare, and logged onto our laptops via Dennis' jetpack, and said hi to our fellow racers. I have to say, Matt B. Davis and those who helped him did a great job: it was a fun atmosphere and very cool to check in with other people across the world, all doing the same challenge in their own neck of the woods. We can't race in person, but this is the next best thing.
We got the tent set up (shout-out to Mrs. McAllister, who let us borrow it along with a table to set up our supplies), and got in our last-minute warm up and mobility work. 0800 finally turned to 0801, and we were off, scampering down the rocky trail toward our first turn.
Dennis and I ran the first lap together in 1:01, a respectable 12:08 pace overall over the 5 miles and 700 feet of gain. We ran the flats and downhills, power hiked the climbs, and decided to play it smart and stay in a safe heart rate zone (for me, between 130-145). This part was crucial, because we are relatively new to ultra running, and had no plans to hammer the trails until our bodies shut down. We had to play it smart and listen to our bodies.
We ran the next two laps together, staying relatively close to one another, and trying to limit our time in the pit to 5-10 minutes. This was hard, for a few reasons: the wet and nasty conditions on the trails necessitated that we change our shoes and socks every lap. Elise made this possible for me, helping me keep the wet pair dry, and getting me the new socks quickly. But even with that, it took time to dry our feet and get some calories in.
In the back of my mind I wanted to hit the 25-mile mark by 2:00PM, which would have feasibly allowed me to push for 50 miles. Unfortunately, my lap times slowly went from 1:01, to 1:03 minutes, then to about 1:07 minutes.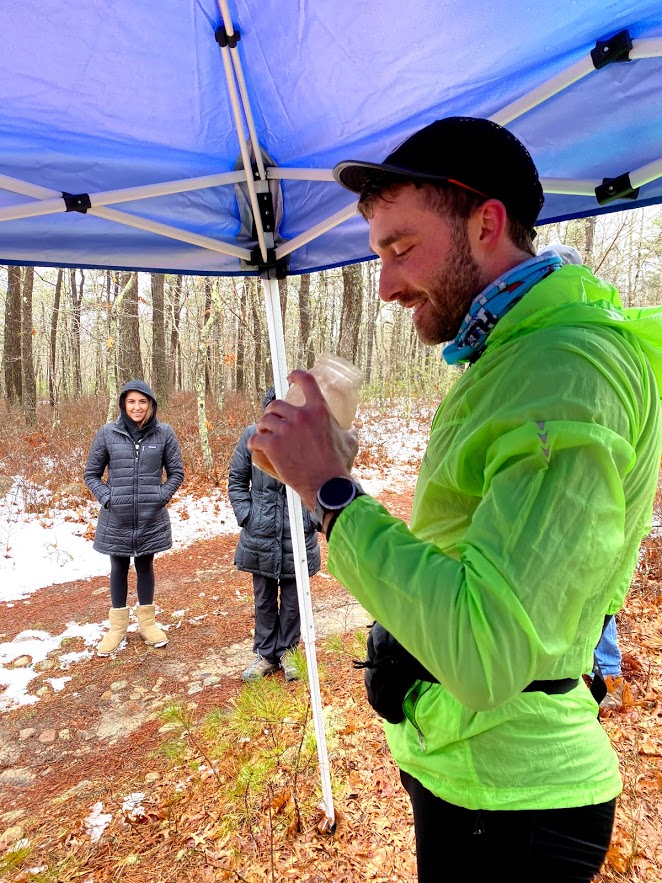 It was still a respectable push late into this race, but between taking longer-than-anticipated pit times to change clothes, and not hitting those laps hard enough (sub 1 hour would have been ideal), I didn't have enough time late in the day to make it happen.
As it stood, I was able to reach 40 miles by 6:00PM. I knew I didn't have the legs to take a very short pit stop and then hammer two quick sub one hour loops. Elise had gone home to get our dog, Revis, and it felt right to be able to walk/jog the last loop with her and the dog in tow.
I finished by 7:30 with 45 miles complete and 6,400 feet climbed, and waited for Dennis, who took a longer pit time, but ran his last two laps in 57 and 55 minutes, respectively.
Very impressive stuff, and it allowed him to run his 45 miles 20 minutes quicker than me. Big props to him, especially seeing as it was his first foray into long-distance trail running like this.
The day itself was amazing: despite the crappy conditions, the snow itself gave the trail a beautiful sheen early on, and the rain let up enough for us to run a few dry loops at the end.
12 hours of running was a brand new thing for me — heading into the race the longest I had been on my feet was 5:40 during the Cape Cod Trail 50K last spring.
Needless to say my body held up well, and I got my 10,000 steps the next day through easy walks with Elise and Revis.
The next Ultra Virus is May 30. Will I do it? Who knows…I'm leaning toward giving it another crack and trying to get 50-55 miles in 12 hours.
Regardless, it was a hell of a fun day, and I want to thank Elise for all her love and support. Great day to be alive, and feeling healthy and strong for the next adventure.
Ultra Virus 12 Hour Race Recap